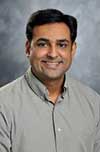 Mickey Patel
Director - Northeast
University of Wisconsin
What's your background?
I graduated in 2004 from the University of Maryland. My first job after college was with a local real estate investment trust in the D.C. area and after a couple of years there, I moved to an investment bank in New York. Then, in 2009 in the midst of the financial crisis, I reevaluated where I wanted to be and I decided to seek out more meaningful work. In 2010, I went to Rwanda and volunteered for a year teaching 6th and 9th graders about entrepreneurship. From there, I volunteered in India with a Seattle start-up then went to the University of Wisconsin in Madison for my MBA in real estate.
How is it that you came to Northwestern Mutual?
I'm from the east coast and, to be honest, I never really expected to stay in the Midwest after getting my MBA. But Northwestern Mutual recruits pretty heavily at UW Madison, and they do so early. So when they came to campus, I thought I'd take advantage of the opportunity to fine-tune my interview skills. After I made it to the second round of interviews, though, I was sold on the people I'd be working with. I genuinely felt they were the kind of people who would help me learn. And at that point, it was pretty much a slam dunk.
Your job is to analyze the strengths and weaknesses of commercial real estate deals. How have your day-to-day experiences as an underwriter compared to what you expected when you came here?
There's a lot more variety than I expected. We get to see deals on a national basis which adds more variety and complexity. Every deal is something new and different for me and it keeps it interesting. My boss has also allowed me to work on a couple of side projects that have been very interesting. It's definitely intellectually stimulating. I'm always busy.
What's next for you here?
There's long-term potential here; that's one of the reasons I chose to come to Northwestern Mutual. Underwriters typically stay in this position for three years, but it was pretty clear there were going to be advancement opportunities. So after 3-5 years, I don't know exactly what's next for me but I do know I want to be able to add value in a different way. I feel like I'll have options.
If you were talking to me as a potential recruit, what would you want me to know about working at Northwestern Mutual Real Estate?
If you're right out of college, you need to know that this is a company that works nationally and is working on interesting and amazing things. You'll have a phenomenal experience that you can leverage no matter what direction your career path takes you.
How do you like living in Milwaukee?
I went to Madison for my MBA. I knew it was cold and I knew what I saw on television, and that was pretty much it. It's been amazing so far. I live 20 minutes walking from the office and I do my best to explore as much as I can. The city has really come alive for me in terms of going to restaurants and events. It's been great.