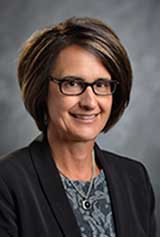 Chris Misiti
Asset Management
Christina Misiti-Eskritt is the managing director of asset management for Northwestern Mutual Real Estate. She and her team of approximately 20 professionals are responsible for the management of the company's real estate equity investments.
Prior to this role, Chris served as director – portfolio research and operations for NMRE. In this role she led a team responsible for the department's management information reporting, research, performance measurement, risk management, communications and marketing, technology and compliance functions.
Since joining Northwestern Mutual in 1991 Chris has held a variety of positions within the real estate department that prepared her for her role today. Chris started her career in the accounting and underwriting units of NMRE before transitioning to asset management. For a number of years, Chris was the investment manager responsible for a portfolio of real estate equity investments in the Midwest region. Her responsibilities included analyzing, establishing and implementing strategies to meet investment objectives, and enhancing the value of investments under management. Following this assignment, Chris was the home office director responsible for overseeing and reporting on the multi-family and retail equity investments nationwide.
Chris received a Bachelor of Science in Business Administration degree from Marquette University in 1991 and is a Certified Public Accountant (CPA).