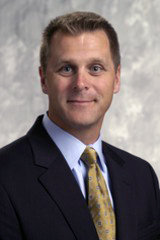 Joe Miller
Managing Director
Joe Miller serves as a Managing Director of Northwestern Mutual Real Estate. He leads a team responsible for the origination and management of the company's portfolio of real estate equity investments and mortgage loans in the eastern half of the U.S.
Miller joined Northwestern Mutual in 2007 and then relocated to Northwestern Mutual's Real Estate office in Washington DC to build upon his career as an institutional quality real estate investor. In 2012 Miller transitioned to an Asset Management role where he led a team of seven asset management professionals responsible for a portfolio valued at $2.4 billion. His team had 2,500 multifamily units in development as well as equity investments in office, retail, industrial and self-storage assets. In April, 2013 Miller relocated back to Northwestern Mutual's corporate headquarters as an Assistant Portfolio Manager in mortgage production and subsequently his current role.
Miller graduated with a BS and MS in Mechanical Engineering followed by an MBA in Finance from the University of Wisconsin.