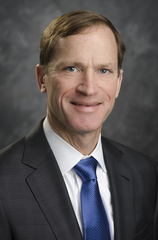 Tom Zale
Vice President and Head of
Northwestern Mutual Real Estate
Thomas D. Zale serves Northwestern Mutual in the position of Vice President-Real Estate. He is responsible for the company's investments in mortgage loans and real estate. He also serves as a member of the Investment Committee and Diversity & Inclusion Committee, as well as Executive Sponsor of the African American Employee Resource Group and Managed Investments Diversity & Inclusion Council.
Previously, Zale was a managing director of the Northwestern Mutual Real Estate Investments, LLC. His responsibilities included the company's investments in mortgage loans for the eastern portion of the country, as well as administrations of the Washington, DC, Chicago and Atlanta regional real estate offices.
Zale joined Northwestern Mutual in 1995. He moved to Seattle in 1996, as a director with a split role in production and asset management. He rejoined the Home Office in 1998 as a director in real estate services where he was responsible for underwriting and recruiting. In 2004, he was appointed director of real estate equities, in 2005 he was appointed to managing director of real estate equities and in 2008, Zale accepted the additional role of managing director – asset management.
He holds two degrees from the University of Wisconsin-Madison. He received a B.B.A. degree in real estate and economics in 1988 and an M.S. degree in real estate and finance in 1995. Zale earned the MAI designation from the Appraisal Institute in 1996, and he is active in ULI and NAREIM. Zale also serves on the boards of the United Community Center and Milwaukee Economic Development Corporation.